75th Anniversary Celebrations To Be Crowned By Diamond Anniversary Gala Ball
17 Jan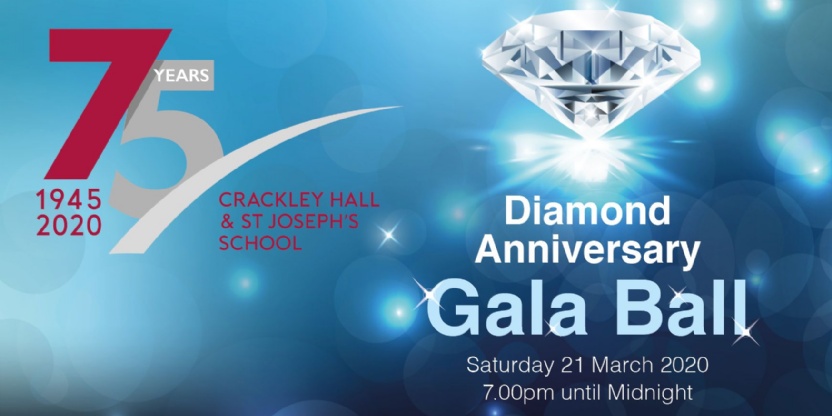 As part of the school's 75th Anniversary celebrations, in addition to a St Joseph's Day Mass on Thursday 19 March from 9.00am to 10.00am and an Open House from 10.00am to 1.00pm on Saturday 21 March 2020, we are delighted to confirm that we will be holding a Diamond Anniversary Gala Ball on the evening of Saturday 21 March at Crackley Hall.
The event will give past pupils, current and former parents and staff the perfect opportunity to celebrate the school's success and rich history.
The Gables will be transformed into a party venue for the occasion and guests will enjoy a red-carpet welcome, champagne and canapes, a delicious hot gala buffet, with a choice of desserts, cheese and tea and coffee, followed by speeches and live music and dancing. There will be a pay bar with the facility to pre-order drinks. The fun will kick off with a reception at 7.00pm and carriages will be at midnight.
Heading up the evening's entertainment will be one of Warwickshire's favourite live bands, Streetlight Soul, with a funky repertoire covering hits from the 70s to the present day that's guaranteed to get everyone up on the dance floor.
Tickets will cost £40 per head, with a maximum of ten tickets available per person and online payment will be taken at time of booking. Places are limited and will be allocated on a first come, first served basis.
Tickets are now on sale. Click here to purchase tickets.
The dress code for the evening will be black tie and the equivalent for ladies.
Do put the date in your diary and encourage friends and family to come along to what promises to be a very enjoyable and memorable evening.