Crackley Take Bronze In National Hockey Finals
11 Feb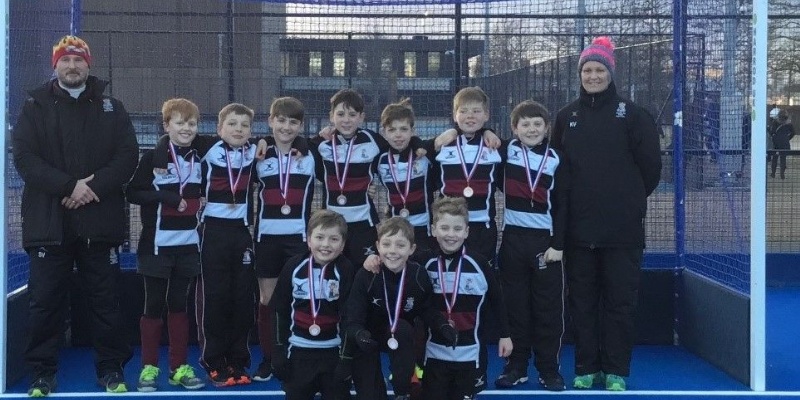 Crackley Hall took a team of ten boys to the National Hockey Finals at the Lee Valley Stadium last Thursday 7 February. It was an early start leaving school at 6am, the boys were full of excitement and anticipation although a few delays in traffic meant they got there only just in time!
The morning pool games were for qualification into the cup or plate competitions in the afternoon. Crackley played steadily to achieve the following results:
Game 1 vs Abercorn – 1-0 win
Game 2 vs Rosemead – 0-0 draw
Game 3 vs Lingfield – 0-1 loss
This put them on equal points with Rosemead however, on goal difference, Rosemead were ahead, so Crackley turned their attention to the plate competition setting their sights firmly on winning that.
The team had good results in the plate first round:
Game 1 vs Lewes – 0-0 draw
Game 2 vs Avon House – 1-0 win
Game 3 vs Oakkfield Prep – 2-0 win
That put Crackley top of the table with 11 points. However, one of the other team's results had been entered incorrectly, so having thought they were in the final the boys then found out they were equal on points with Lewes. So, it went to the result of their game – a draw. Then onto goal difference, which was also equal, then goals for and Lewes had scored just one more than Crackley over the tournament, so Lewes went into the final and Crackley were in the play off for 3rd/4th place.
The boys were really disappointed, but showed real grit and picked themselves up, playing the best game of the tournament and beating Queen Ethelburga 3-0 to secure the bronze medal!
Commenting on the event, PE Teacher Kat Vaughan, said, "The boys were an absolute pleasure to take out for the day. They showed exceptional team spirit, working hard to support each other in celebration and disappointment."