U10s Take Gold And The U11s Bronze In Small School Netball Tournament
21 Mar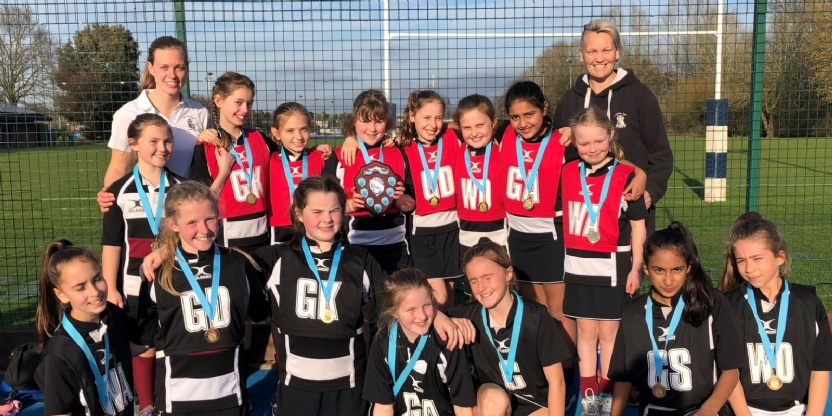 On Wednesday 20 March, Crackley Hall took an U11 and an U10 team to play in a small schools U11 Netball Tournament hosted by Warwick Prep. The competition was split into two with Crackley's U11s playing in the A team tournament whilst Crackley's U10s took part in the B team event.
In the first round the U11s played five group games, they got off to a flying start defeating Kitebrook 7-0. The second match against Kingsley was a far closer affair, but the girls held their own and the game finished in a 0-0 draw. Having settled into their game the girls began to build momentum playing a strong attacking game to win their remaining three group matches, defeating Stamford 6-0, Bablake 3-2 and Carrdus 3-1.
They topped the table and went through to the semi-final against Sibford. That proved a very closely matched game and despite making every effort it finished in a 2-2 draw; in extra time the girls just ran out of time and were disappointed to narrowly lose on the whistle 4-5.
In the play-offs they faced Kingsley again where another strong performance saw them claim third place overall with a solid 2-1 win.
The U10 team played up a year taking on U11B teams. Their competition started with a round robin event. The girls made a steady start with a 0-0 draw against the hosts Warwick Prep. They then had a fantastic run of wins defeating Stamford 5-0, Bablake 7-0, Bluecoat 3-1, Eversfield 5-0 and Kingsley 4-0. In their final match they were held to a 1-1 draw by Fairfield.
They finished top of the table jointly with Fairfield, but with the better goal difference were awarded the trophy and gold medal.
PE Teacher, Kat Vaughan, was delighted, commenting, "Well done to all of the girls for a great team effort, they played brilliantly. Plenty of energy, commitment and organisation and excellent game play. What a great afternoon of netball."
Playing in the U11 team were: Martha Harris, Caitlin Horan, Francesca Kelly, Annamaria Kordas, Madeline Lambeth, Amisha Modi, Isabella Osborne, Hannah Wildey (Capt), and in the U10 team: Constanza Alvarez Lujan, Amy Farquharson, Ajunee Gill, Daisymay Mcmurdo, Rosie Moreton, Martha Summers (Capt), Nancy Volpe and Isabella Ward.