Princethorpe Delighted To Welcome New Senior Members Of Staff
08 Feb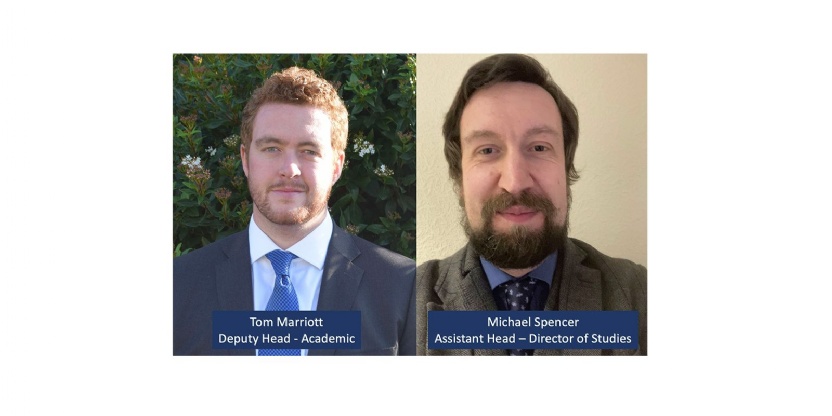 Princethorpe is delighted to announce the appointment of two new members of staff to the College's Senior Leadership Team with effect from September 2021.
Tom Marriott takes on the role of Deputy Head (Academic), replacing Dr Michael Reddish who is moving to Harrow Bangkok. He will be supported in his new role by Michael Spencer who has been appointed as Assistant Head (Director of Studies).
Leading on all aspects of the academic life of the school, their roles will be critical in taking Princethorpe through the next phase of its development, ensuring we are producing pupils who are 'world ready' with the skills and qualities necessary to go on to lead full, rich and meaningful lives.
A University of Cambridge History graduate, Tom is currently on the Senior Leadership Team at Canford School, Dorset and has also taught at Cranleigh and St Peter's, York. He has previously held roles of Head of History, Oxbridge Co-ordinator, Head of Enrichment and Assistant Housemaster.
A keen sportsman, Tom also coaches Rugby, Cricket and Football. Originally from Kenilworth, he is no stranger to Princethorpe having represented King Henry VIII on the rugby field when he was a pupil.
Commenting on his appointment, Tom said, "The clear sense of commitment, dynamism and warmth that emanated from the school, from each of the panel as individuals, and collectively as a Senior Leadership Team made the decision to accept a very simple one."
Michael graduated from the University of Warwick with a BSc in Physics and Business Studies. He is currently Assistant Head (Curriculum) at Bablake School and has also taught at Blue Coat School in Coventry.
His previous roles include Head of Physics, Head of Year and Head of Science.
Michael has a keen interest in Music and Theatre and has provided technical support for many school productions.
He commented, "The College's 'spirit of family' was acutely evident as I met both staff and students; this ethos resonates with me both personally and professionally and I am delighted to have the opportunity to contribute to Princethorpe's development and continued success."
Headmaster, Ed Hester adds, "From an exceptionally strong field both Tom and Michael were the stand-out candidates; their personal values are in tune with our ethos, both are excellent teachers and they bring with them a wealth of experience and ideas. Having these two roles at the heart of the leadership and management of the College will further strengthen Princethorpe and positively impact pupil outcomes. We are very excited to begin working with them in preparation for the next academic year."