Tudor Times Come Alive In Crackley's Great Hall
25 Jan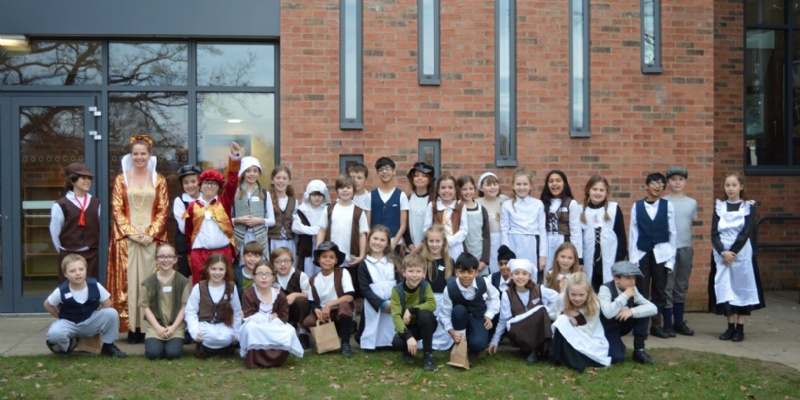 On Monday 21 January Junior 5 left modern day Britain behind and travelled back in time to the Tudor era. Children, staff and even parents came to school dressed in costume and enjoyed a memorable day exploring life in the 16th century.
They began in the court of King Henry VIII in the year of our Lord 1536. Despite rumours and intrigue surrounding his second wife, Anne Boleyn, the King's household had plenty of tasks to attend to. Set out in Crackley's great hall were typical Tudor professions and a range of crafts that included: Alchemists, Apothecaries, Barbers, Chandlers, Embroiders, Leatherworkers, Miniature Artists, Scholars (ink making and writing), Scent bag and Soap makers. The children all enjoyed taking part in the traditional Tudor activities, it was fantastic hands-on learning.
In the afternoon the children took on various roles at a mock royal banquet. Some were servants whilst others were entertainers, dancers and even singers. As they worked, more rumours swirled around the ill-fated Anne Boleyn. The background narrative really helped bring the Tudor era alive.
Sebastian from J5 commented, "Tudor Day was amazing. The man was very knowledgeable, he made history come to life." Amy, also from J5, added, "It was exciting. The stories of Tudor punishments made me feel glad I'm living now and not then."
Crackley's Tudor Day was led by History Off The Page, a company who run historical workshops. The day was organised by teacher Sarah Lammas, who commented, "The children had an amazing time, immersed in history and surrounded by authentic replica artefacts. It was a day full of practical learning, storytelling and drama." Fellow Junior 5 teacher, Julia Roberts added, "History Off the Page were knowledgeable and enthusiastic. All of the children and adults thoroughly enjoyed the workshop, a huge thanks goes to all of the parents, who joined in the fun, dressed up and so ably assisted us."