ISI Inspection Finds Excellent Pupil Achievement And Personal Development At Crackley Hall School
30 Nov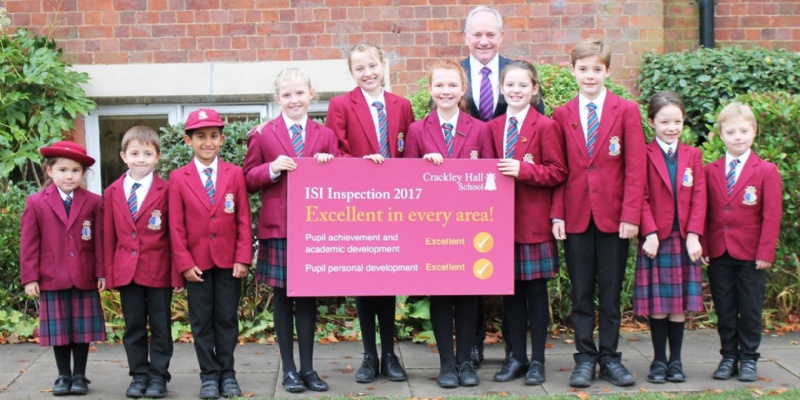 Crackley Hall School in Kenilworth has received the highest possible ratings across all criteria from the Independent Schools Inspectorate (ISI) following an inspection in October 2017. The report, published today on the ISI website, consists of two elements, a focused compliance inspection, encompassing statutory standards, and an educational quality inspection evaluating pupils' achievement, including their academic and personal development.
Headmaster, Robert Duigan, comments "We are thrilled with the report which is a real vote of confidence for everything we do at Crackley Hall. I am delighted that the hard work of pupils, teachers, support staff, parents and the wider school community has been so resoundingly acknowledged and the positive impact that a Crackley education has on our children's lives has been recognised."
Mr Duigan continues, "Being rated as 'excellent' in terms of both pupil achievement and personal development shows we are a leading prep school and demonstrates the incredible talent, commitment and professionalism of our staff and the outstanding attitude and approach of our pupils."
During the inspection, the ISI inspectors observed that, 'Pupils' attitudes to learning are exceptionally positive. They are enthusiastic, curious and very supportive of each other'. The report also comments that, 'Pupils from the Nursery onwards make excellent progress', and 'Pupils achieve excellent results' in entrance exams for senior schools and 'a high proportion gain scholarships for academic success, music, drama and sport'.
The contribution of a wide range of curricular and extra-curricular provision was also recognised with the inspectors impressed that, 'Pupils achieve at a high level in sport, music, drama and art as a result of making the most of the very rich range of opportunities available to them.'
Pupils' personal development was also judged as 'excellent' with inspectors recognising that 'From an early age, pupils demonstrate a strong sense of right and wrong'. They judged that, 'The pupils' social skills are exceptionally strong', 'behaviour in the school is exemplary' and 'At all levels they display genuine care and concern for each other'.
The ISI Inspectors also noted that, 'As pupils leave the school, they are well-prepared for the next stage of their education and ready to take on their future challenges as capable, resilient and confident young people'.
Mr Duigan concludes, "At Crackley Hall we are committed to providing our pupils with an outstanding all-round education, instilling in our children life-long learning skills in addition to offering them excellent academic, sporting and creative opportunities. I am very proud that ISI Inspectors have so comprehensively recognised what we do."
The ISI is the Government-approved body responsible for the inspection of independent schools and they consider every aspect of the provision. A copy of the full report is available below or from the ISI website.