Hannah Owens Appointed Warwickshire Young Poet Laureate
12 Feb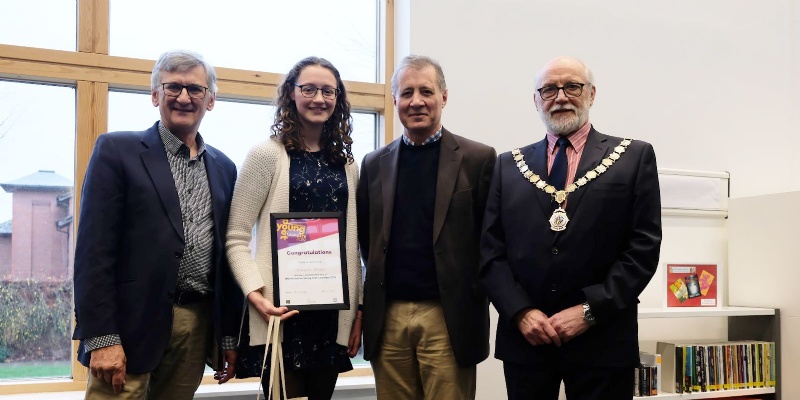 Lower Sixth Former Hannah Owens has been appointed young poet laureate for Warwickshire. The 17-year-old will take on the post for the next year.
Hannah was selected from a shortlist of five poets after a challenging but amazing day of workshops, interviews and performances.
The selection day started with a performance workshop hosted by Midlands based poet, Fergus McGonigal. He was full of helpful hints on how to make the most of your performance and even performed some of his own unique work. Next came a panel interview with questions on why poetry was important and what the candidates hope to do in the role. The day concluded with each applicant performing two poems; one themed on Warwickshire and another of their choice; to a small audience of parents, friends, local dignitaries from the county, including the Deputy Mayor of Rugby and the MP for Rugby, as well as staff from Warwickshire Libraries.
Hannah will now undertake a year of performances, which will include attending events throughout the county, starting with the Arts Council meeting in Stratford-upon-Avon and the Warwickshire Libraries conference. Her work will also include running workshops with young people and even organising a blog.
Hannah will also get the chance to work with a mentor, a graduate English student, to develop her writing skills.
Hannah commented, "The selection day was incredible and very inspiring - the result was completely unexpected. It is a wonderful opportunity and I can't wait to get started. I would like to thank my English teacher, Mr Kerrigan, for the help he gave me in preparing. I am looking forward to the year and I would very much like to work with younger pupils here at Princethorpe to help get them involved in poetry."
You can read more about Hannah's new role and the work she will be doing in the next edition of the Pinnacle, which will be published this spring.