Musical And Movie Tunes Make For A Magical Orchestral Day
08 Mar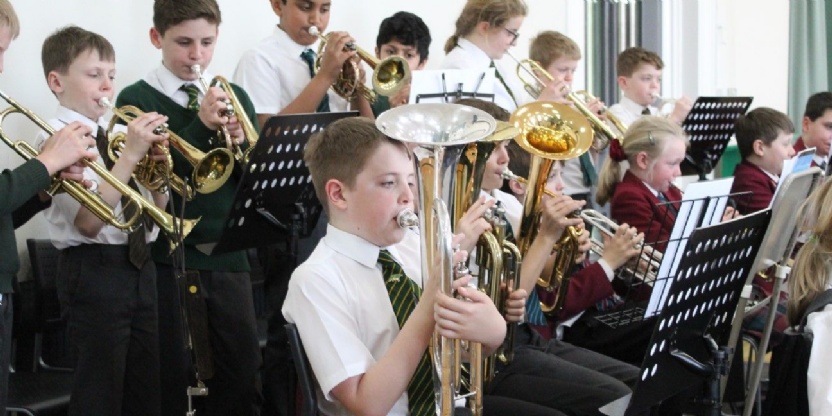 On Tuesday 5 March, Crescent School welcomed musicians from fellow Foundation junior school, Crackley Hall, for an orchestral workshop. It was another opportunity for the young virtuosos to work together following a successful Choral Workshop at Crackley Hall in the Michaelmas Term. The event saw 20 members of Crackley Hall's Orchestra join 20 Crescent instrumentalists for a day designed to develop and stretch their music and performance skills.
Pupils from both schools worked together under the guidance of Directors of Music, Julie Barnes and Susan Olden, to prepare and rehearse a mixture of pieces ready for an afternoon performance for parents.
The children enjoyed a busy morning and afternoon of rehearsals, they relished making music together especially in such a big group. They worked hard to prepare two challenging pieces, including the moving 'I Dreamed A Dream' from the hit musical Les Miserables and the stirring 'Great Movie Adventures' by John Williams, both pieces testing the players' technical and music-reading ability to the limit.
The afternoon concert was superb, a sensational symphony of sound. As well as featuring the full 40-piece orchestra playing their now near perfect pieces, it also included four solo performances, two from each school. Edward Hunter played 'I'd Do Anything' from Oliver on Trumpet, Fin Calder played 'Reverie' by Tchaikovsky on Tenor Horn, Andrea Zanyi played 'Take Five' by Paul Desmond on Flute and Matthew Thomas played 'Prelude' by Charpentier on Cornet.
Mrs Barnes, Director of Music at Crescent, commented, "It was a very successful day and the pupils enjoyed working and collaborating together. They achieved a very high standard of performance, and this was due in no small part to the preparation and practising that went on in the weeks beforehand".
Mrs Olden, Director of Music at Crackley Hall, agreed commenting, "I thought it was a brilliant day for all the children. They learned so much challenging music in such a short space of time, it was simply great for them to play with so many other talented musicians."
Another successful Foundation day with the young musicians leading the way enjoying learning and working together!