Six Top Ten Finishes At The ISA National Cross Country Championships
02 Apr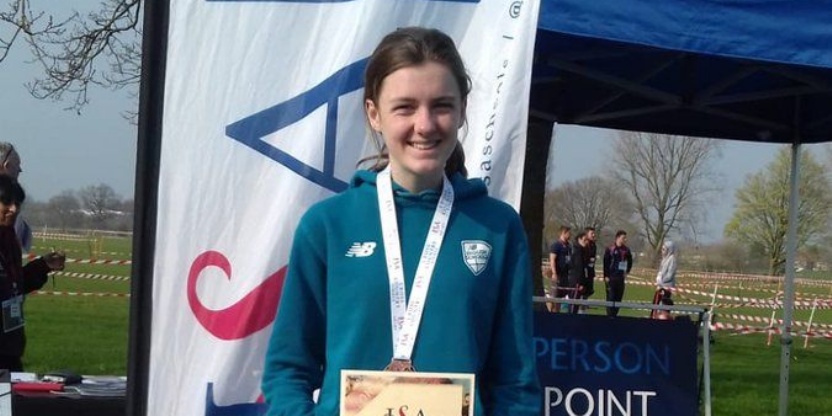 Princethorpe College's pupils achieved a stunning six top ten finishes in the Independent Schools Associations' National Cross Country Championships on Saturday 30 March.
15 pupils had qualified to represent the Midlands team running in the U18, U15 and U13 Boys and the U15 and U13 Girls races against regional teams from all over the country.
Always a hotly-contested competition, this year's event took place at Rugby School and attracted 604 runners from independent schools.
Against a field of 66 runners, Year 10 pupil Molly Minshull delivered the best finish of the day running the U15 Girls 3km course superbly to finish in 11.48.98. She claimed third place and a well-deserved bronze medal. Following her over the line were Year 9, Evie Phillips who finished 9th and Year 10s, Eve Howard in 27th and Erin Darcy 34th.
Running in the U13 Girls 2.75km race Year 7, Kate Pomerleau and Year 8s Grace Darcy and Julia Loftus ran excellent well-paced races, Kate finished 8th in 10.28.13 with Grace just behind in 10th and Julia 17th from a field of 62 runners.
In the U18 Boys the Crowfoot brothers finished their 5km race in 6th and 7th place. Tom ran the course in 18.06.10 Will crossed the line just 2.04 seconds later in 18.04.14. Fred Self finished 23rd out of a total field of 50 runners.
The U13 Boys ran a 2.75m course, Year 8, Zac Johnson finished 22nd and Year 7s, Oscar Reynolds and Ollie Farquharson finished 49th and 52nd respectively.
PE Teacher, Will Bower, was delighted, "Another really good day for the Princethorpe team, full of consistent sure-footed running. Six top ten places at the Nationals – what a great way to end the season."