Inauguration Ceremony Welcomes New Princethorpe Prefect Body
12 Apr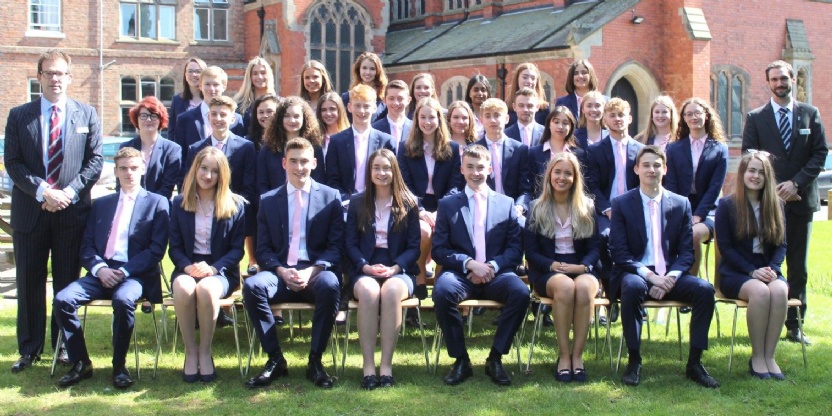 The new Princethorpe College Prefect Body for 2019-2020 was formally inaugurated into their roles in an emotional ceremony on the last afternoon of the Lent Term, Wednesday 10 April.
Parents and friends of the new prefects were invited to College for a celebratory buffet lunch before joining the afternoon's formal ceremony. The outgoing Head Boy, Tom Warne, and Head Girl, Elizabeth Carr, gave a poignant speech reflecting on their year in office and time at Princethorpe before wishing the new Prefect Body well, and handing over the keys of office. The 2019-2020 Prefects smartly attired in their blue prefect uniform for the first time, spoke to the gathered audience of pupils about their hopes for their new roles.
The roles of office are:
Head Girl
Leah Dunkley
Head Boy
Jack Bent
Deputy Head Girls
Amy Gribben
Hannah Porter
Deputy Head Boys
Matthew Walker
Samuel Whittaker
Pastoral Prefects
Katherine Duigan
Madison Downey
Gabriella Proietti Tocca
Sophie Mitchell
Samuel Wycherley
House Captains:
Austin - Sophie Caris and James Crabtree
Benet - Caitlin McBride and Dominic Turner-Burr
Fisher - Isobel Smith and William Cooper-Harris
More - Katherine Shorten and Oscar Phillips
Social Prefects
Scarlet Gladwin and Amy Gordon
Charity Prefect
Ciara Hancox
Chaplaincy Prefects
Joseph Connelly and Louise Way
Junior Chaplaincy Prefects
Thomas Bucknall – Year 7 – Austin
Freddie Hadley – Year 7 – More
Zoe Shayler – Year 8 - Benet
Academic Prefects
Hannah Owens
Millie Hainge
Rajpreet Birdi
Alys Hemmings
Marketing and Communications Prefect
Lara Vohrah
Games Prefects
Ellen Bucknall and Caitlin Parris
Callum Cooke and Sion Murphy
The College wishes good luck to the new prefect body for the year ahead and extends warm thanks to the outgoing prefects, they have given great service and we wish them all the best for their upcoming exams and future endeavours.