Primary Schools Take Up Jaguar Challenge At Princethorpe
03 May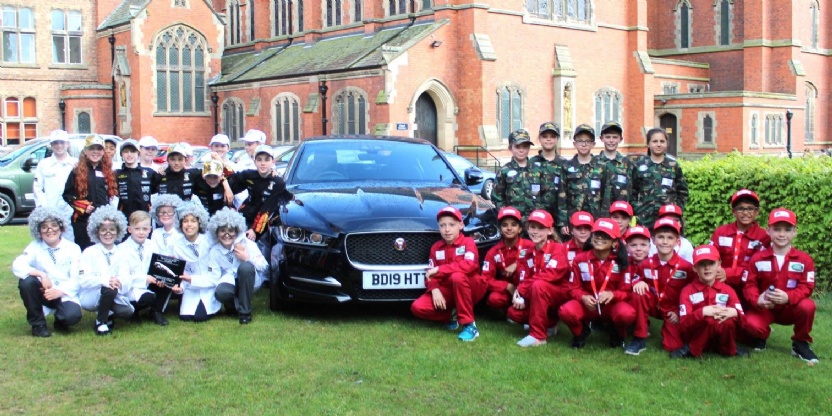 Princethorpe College was transformed into a racing venue on Thursday 2 May as seven teams from local primary schools powered up their hand built cars to compete in the Regional Finals of the Jaguar Primary School Challenge.
The Jaguar Primary School Challenge engages with primary school pupils and teachers across the UK. The challenge is open to pupils aged 5-11 years old and involves designing and manufacturing the fastest car possible emulating the design and engineering processes employed by real engineering companies, such as Jaguar Cars.
At the Regional Final the pupils presented their designs and then raced the cars they had built down a special 20-metre-long track, set up specially in the Sports Hall at Princethorpe College. The cars were propelled using special compressed air gas canisters and they travelled the distance in a matter of seconds.
The Warwickshire Regional Final is hosted and organised by Princethorpe College and Head of Design Technology, Paul Scopes, has been on hand to support the primary schools' design and development work. Taking part this year were some 35 Year 4 and 5 pupils from Crackey Hall School, Crescent School, Priors Field Primary School and Balsall Common Primary School. The teams were judged on a range of criteria including speed, engineering, pit display and a verbal presentation, and were competing for a chance to go forward to the National Final, which this year will be held on Tuesday 11 June 2019 at the British Motor Museum at Gaydon.
Alex Darkes, Assistant Head Development, and the Chairman of the judges, was impressed with the hard work of all the teams, saying: "The standard of competition of all the teams this year was tremendously high, illustrating the commitment and talent of all the children involved. These nine-year-olds explain aerodynamics and friction with a level of knowledge and understanding I would be pleased to see in a GCSE pupil."
It was a very hard fought competition but the two teams going through to the final were: Speed Specialists from Priors Field Primary School and Firecrackers from Crackley Hall School. Well done to all the teams!