Cycling Pilgrimage #2 Challenge Raises Funds For Mary's Meals
03 Jun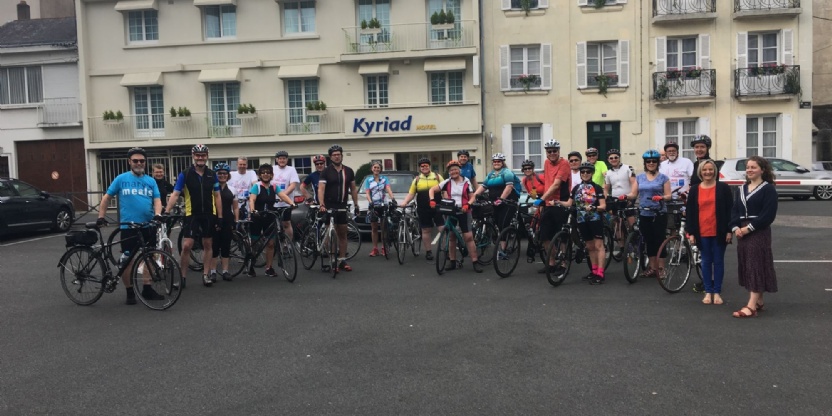 An intrepid band of Princethorpe College staff, parents, Old Princethorpians and even our Chair of Trustees bravely took on an epic challenge over the May half term holiday when they cycled between the French towns of Saumur and Amboise in support of the College's chosen charity, Mary's Meals.
This was the second time the College has undertaken a cycling pilgrimage, the first one being during the College's Golden Jubilee Year, two years ago.
The 22 cyclists and their supporters travelled to France by coach and cycled the 110 miles over two days, with a rest day in between in the beautiful chateau town of Azay-le-Rideau. Over the course of the challenge the cyclists encountered monsoon like rain, punctures, chain breaks and their fair share of drama and injury.
They travelled along country roads and canal paths, through lush meadows and poppy fields, beside the beautiful Loire and up steep hills in order to complete the challenge.
Comments, Headmaster, Ed Hester, who led the trip, "110 miles in two days is no mean feat and all the pilgrims deserve to be congratulated. Once again there was a fantastic sense of camaraderie, which really epitomised Princethorpe's spirit of family. We were received most warmly by the French people on our route, who were fascinated by the challenge."
Thanks go in particular to our wonderful coach driver, Keith Price from Catteralls, the route master general, Peter Griffin and French liaisons, Andy Compton, Alison Gallagher and Miriam Isaacs.
The cyclists have already raised over £1,500 towards the £2,000 target they set themselves in aid of their chosen charity, Mary's Meals, amazingly enough to feed 144 children at Makalunga Primary School in Malawi for a year.
If you would like to support them please go to their fundraising page here.