OP Ian Bell Coaches Crackley Hall Cricket Masterclass
13 Jun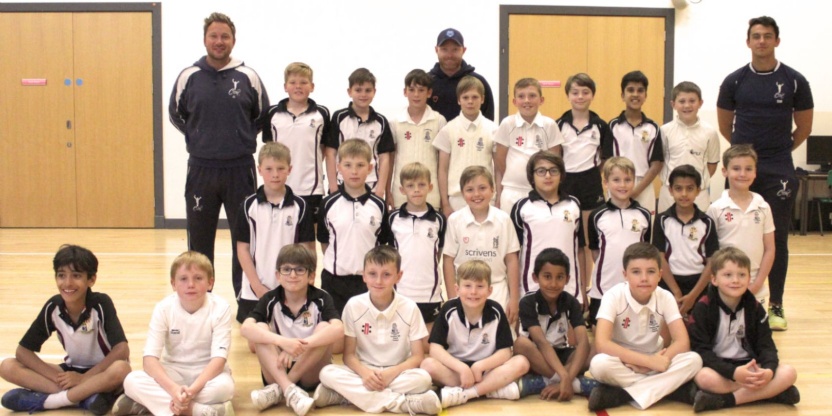 Crackley Hall was delighted to welcome, Old Princethorpian and Cricket Ambassador for Complete Cricket, Ian Bell MBE into school on Tuesday 11 June for a special Batting Masterclass.
Complete Cricket, who are one of the largest professional cricket coaching providers in the UK, run a co-curricular cricket programme at Crackley Hall. They had organised the masterclass to provide 24 Junior 4, 5 and 6 pupils with a unique opportunity to be coached by an England and Warwickshire cricketing legend.
Alongside Complete Cricket's coaches Jamie Spires and Sam Montieri, Ian put the awestruck boys through their paces. From the start he stressed the importance of getting the fundamentals right, looking at grip, stance, backlift and alignment, his message was 'cricket is simple if you get the basics right'. Over the two-hour session, you could see the boys' cricket improve as they worked in groups to put Ian's advice into practise. After all the drills there was just time for a quick game so everyone could put their new skills into action.
The session finished with a question and answer session. Ian was enthusiastically quizzed by the boys, with questions ranging from 'Who was the most challenging bowler you faced?' and 'Where were the most difficult pitches to play on?' to 'What was it like to play with Freddie Flintoff?' They even quizzed Ian on his time at Princethorpe. Ian answered all their questions good-naturedly explaining that he had always enjoyed sport and had first played for Warwickshire in their U10 squad. He encouraged the boys to play all sports, talking about all the opportunities he had at Princethorpe and the inspiration and support he had received from the College's former Director of Sport, Gwilym Price. He said, "I loved sport and at Princethorpe I played everything - rugby, football, hockey and cricket. I was 16 when I finally decided that cricket was what I wanted to do."
Jamie Spires, Sales & Marketing Director at Complete Cricket, explained, "Here at Complete Cricket, we are dedicated to helping all of the players we coach enjoy the opportunities that playing this great game offers. Not many young players get the chance to work with, or learn from, true legends of the international game; therefore, we are very proud to be able to work with Ian Bell in delivering fantastic coaching to the children at Crackley Hall School. It was a superb session and we would like to thank Ian for his insight and fantastic coaching tips and also the Crackley Hall pupils, who showed real enthusiasm to develop their skills."
Crackley Hall's Assistant Head – Co-curricular, Charles Lamprecht said, "Huge thanks to Ian, Jamie and Sam from Complete Cricket for an inspirational masterclass. The boys were thrilled to have a cricketing legend coaching them and I am really looking forward to seeing them put their new batting skills into action."