Princethorpe College Welcomes Council Leader To Discuss Commonwealth Games
21 Aug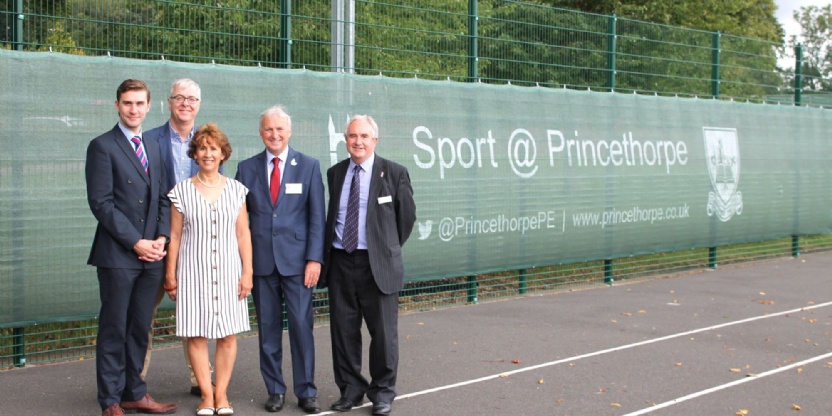 Princethorpe College has welcomed Birmingham City Council Leader, councillor Ian Ward, to the college for a tour and discussion about how the school may support and get involved with the Commonwealth Games in 2022.
The Commonwealth Games, estimated to be costing approximately £778 million, is the biggest budget sporting event since London 2012 and will see 71 nations competing over 11 days.
On his visit Ian Ward toured the school and grounds, taking in the Sports Centre, Orchard, the all-weather sports surface and the Rugby pitches.
The College is hopeful that it can be involved with the Commonwealth Games, perhaps as a training ground for one or more of the many visiting teams.
Princethorpe College has a proud sporting heritage, with international cricketer Ian Bell MBE, amongst the college's most famous alumni. Sport is a core part of school life at Princethorpe and the college fields at least three full teams (A, B, C) in most sports, and even a fourth (D) in some others.
Ed Hester, Headmaster of Princethorpe College, said:
"The Birmingham Commonwealth Games in 2022 is the biggest sporting event since London 2012 and it is happening on our doorstep. It's a fantastic opportunity for Princethorpe to get involved and showcase our brilliant facilities, grounds and hospitality.
"I'm grateful to Ian Ward for taking time out of his busy schedule to come and see what Princethorpe has to offer. We think Princethorpe could potentially offer a wonderful experience to visiting athletes to train, but it's also a once-in-generation opportunity for the college to be involved in such a high-profile sports event.
"We're very proud of sport at Princethorpe and if the college can be involved with the Commonwealth Games, we would welcome the opportunity."
Cllr Ian Ward, Leader of Birmingham City Council, said:
"I've had a fantastic visit to Princethorpe College and it's great that the school are taking the initiative and wanting to get involved with the Commonwealth Games.
"Princethorpe College clearly has a great sporting heritage and sport is at the centre of school life for staff and pupils.
"They have some wonderful facilities and beautiful grounds and I'm sure visiting teams would be very impressed to visit here as part of their Commonwealth Games experience.
"I am very keen that the Commonwealth Games benefits not just Birmingham, but the wider West Midlands region, and I'm very grateful that so many of the regions' schools are starting to engage and get excited about the games."