South African Senior Sports Tour Full Of Keenly Contested Matches And Superb Sightseeing
09 Sep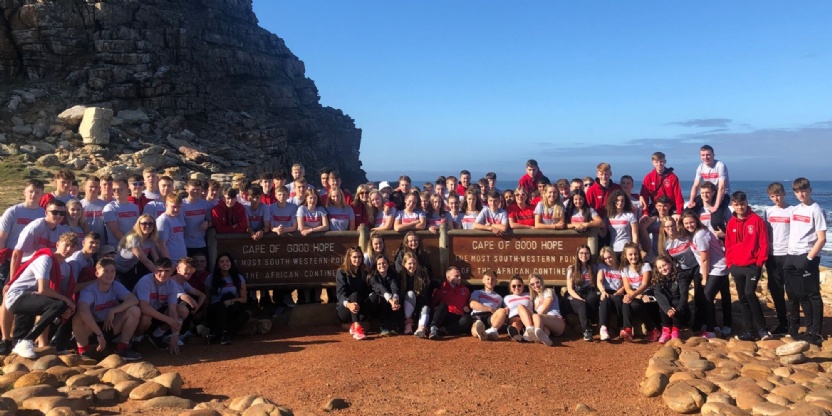 Over the summer of 2019 the College enjoyed a very successful 14 day sports tour to South Africa.
Taking our largest squad ever, of some 94 pupils and 11 staff, and for the first time including football into the playing schedule of boys' hockey, girls' hockey, netball and rugby. The tour travelled to Cape Town and then on to Johannesburg and Pretoria for a fortnight full of keenly contested matches and superb sight-seeing.
During the tour the rugby, netball, football and girls' hockey teams participated in six full days of good spirited and competitive training and matches against school and club teams. The boys' hockey team entered the Cape Town International Hockey festival playing schools from the UK as well as top South African teams – an amazing experience. Our South African hosts were so hospitable and the training and matches were great experiences for all, with valuable lessons learnt both on and off the field.
Away from the sports field, the tour offered participants the chance to broaden their horizons with sightseeing and educational experiences that included the history of South Africa with tours of Soweto and the Apartheid Museum and a visit to Robben Island, where Nelson Mandela was incarcerated. Pupils also had the opportunity to experience South Africa's vibrant culture at Lesedi village and get up close and personal with the wildlife in game drives at Pilanesberg Game Reserve, seeing the 'Big Five' and a 'cattrick' on their drives. The tour party also enjoyed some spectacular scenery after walking up Table Mountain in Cape Town and venturing to the most southern tip of Africa at Cape Point.
Neil McCollin, Acting Assistant Head (Co-Curricular), said, "South Africa is a truly stunning country, passionate and fiercely competitive in their sport. We had an excellent trip and played some inspiring matches and I know that our Princethorpe pupils returned home with a truly wonderful set of memories. The behaviour, engagement and camaraderie of the Princethorpe pupils was first class and I know that this is going to set them up for competitive sporting fixtures this season, but more importantly they will get even more out of their Sixth Form experience as a result of their time away together."
Huge thanks go to all of the staff involved for their time and passion in putting together and running such an impressive trip. We were also incredibly fortunate to have some amazing sponsors for the tour and we can not thank FTI consulting, BB Fencing, Building and Timber and COBA enough for their trust and support.
We look forward to the experiences translating into positive results on the pitches over the coming season.