Glow For Myton - Around The World In 5km Fundraiser To Take Place At Princethorpe
21 Nov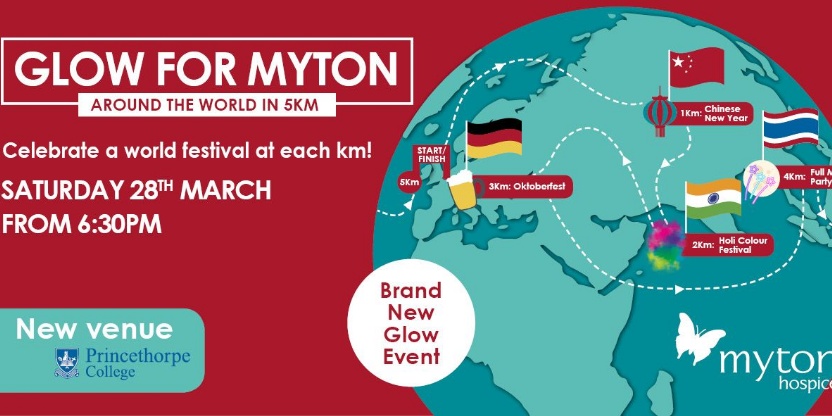 Princethorpe is delighted to be hosting a major fundraising event for the charity Myton Hospice on Saturday 28 March 2020.
Glow For Myton - Around The World In 5km is a night walk that will wind its way through the beautiful grounds of the College campus, taking in the sights and sounds of some of the world's best celebrations along the way. Myton Hospice has been running sponsored night walks for a number of years in city centre locations. The events have proved so popular that the charity started looking for a new venue and Princethorpe College was delighted to step in. Ideally situated midway between the charity's three hospices in Coventry, Warwick and Rugby, Myton Hospice is hoping to attract hundreds of walkers from across Warwickshire for what it is describing as its biggest and best Glow fundraiser ever.
The 5km walk will begin and end in the Orchard where there will be entertainment and food available both before and after the event. The route will take walkers off around the College grounds. There will be plenty of volunteer marshals to cheer all the walkers on and along the way will be exciting zones showcasing festivals and cultural celebrations from around the world including Oktoberfest, Chinese New Year and the Holi Colour Festival. The event isn't timed, instead it is all about enjoying the experience and the sights and sounds laid on for the event.
Comments Clare Cropp, Myton's Community and Events Fundraising Manager, "We are hoping to raise £60,000 from this event and are really looking forward to holding it at Princethorpe. The event is already generating a lot of interest and we're very grateful to the College for so generously supporting us."
Glow For Myton - Around The World In 5km is open to all, and pupils and parents are encouraged to sign up for the event at the early bird price of £15 for adults and £10 for children on the charity's website here. (Children of all ages are welcome but under 18s must be accompanied by an adult.)
The event is sure to be great fun for a good cause so we are hoping lots of families and friends of the Foundation will want to get involved.