Princethorpe College's Plans For Science Plus Take Major Step Forward
16 Dec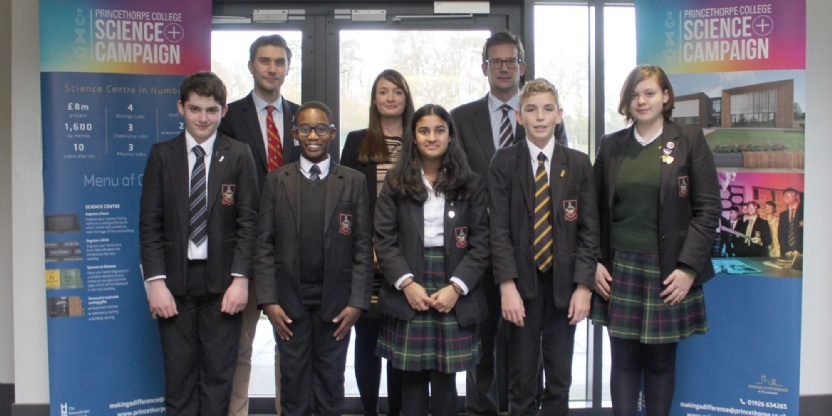 Princethorpe College's plans for a new Science Centre have taken a major step forward with planning permission granted, the launch of a fundraising campaign and the unveiling of further campus wide benefits.
The state-of-the-art £8 million Science Centre, which will allow the College to redevelop and cluster several other departments, was granted planning permission in May this year. The College has now revealed further plans for a new suite of Art studios, additional space for Maths and Technology, increased dining capacity and sporting facilities.
Comments, Headmaster, Ed Hester, "Princethorpe is situated at the heart of the UK's automotive industry, where science and engineering meet art and design. We know that our pupils need the finest facilities to give them the best opportunities for their future and widening the scope of our Science Campaign to encompass all STEAM subjects enables us to provide these."
The Science Centre is now entering the detailed 'developed design' stage with local RIBA members, AT Architects of Leamington, who designed The Limes 14-classroom wing in 2014. A cost plan will follow early in the new year, then a period of value engineering and technical design before a bill of quantities is prepared in the summer.
Mr Hester continues, "This is a large, complex and exciting project. The next six months will be critical as we prepare thoroughly for the tendering process in autumn 2020. If all goes to plan we should be appointing a main contractor this time next year, with construction starting early in 2021 and completion in summer 2022."
A fundraising campaign has been launched to work hand in hand with the delivery of the project. The Science Plus Campaign outlines a menu of giving including engraved pavers and bricks, sponsorship of elements on a giant periodic table and personal and corporate naming opportunities.
Our Director of Development comments, "We're determined to make sure that this project is funded and built as soon as possible. We hope that the many Friends of Princethorpe will be moved to support this project, as they have previous initiatives in the College's history. Their support is vital in making our vision for Science Plus a reality."
Those interested in supporting the Science Plus Campaign are invited to email makingadifference@princethorpe.co.uk or call 01926 634265 for a Science Campaign Plus brochure.
Pictured here alongside Mr Hester and Mr Lee are Head of Science, Emma Cooper, and some of the pupils who will reap the benefits of the new facilities at the College.
STEAM stands for Science, Technology, Engineering, the Arts and Mathematics.