College Clock Restoration Keeps Ticking Along
12 Dec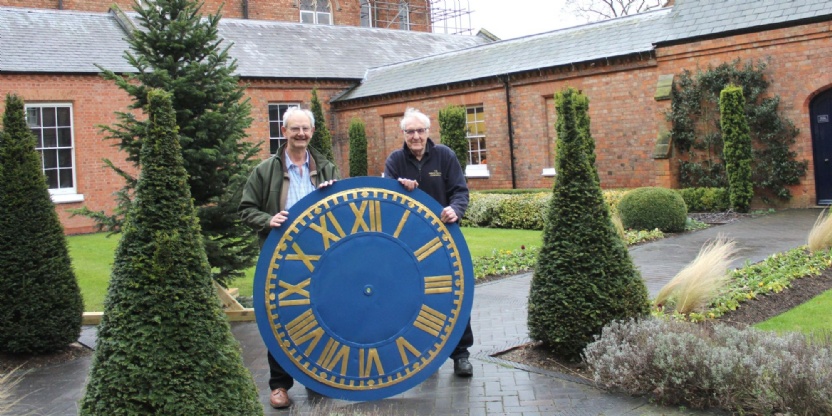 Former Head of Chemistry, John Miller, visited the College on Tuesday 10 December with Estates Assistant, Gerry Lovely, to see how the restoration of the clock-tower was coming along.
The clock is a landmark at Princethorpe and has played an important role in the daily lives of all who have lived and worked here. The current clock was purchased in 1861, it was last renovated in 1959 for the then Reverend Mother, Mary Augustine's Golden Jubilee.
John and Gerry kept the clocks working here at Princethorpe College for over 40 years.
John explained, "I first started at Princethorpe back in the 1970s. The clock needed regular winding so I was always climbing about the roof space. Often, I would pop out of a door and surprise the boys, they wouldn't know where I had come from."
John and Gerry were both fascinated by the restoration process that includes both the stonework of the clock tower and the clock mechanisms. Head of Estates, Michael Small, showed them the progress so far. New stonework has been arriving regularly and is carefully being installed. A new auto winding mechanism has been fitted to the clock and the new clock faces have been freshly painted and are now back on site waiting to be re-fitted once the stonework is complete. John and Gerry gamely braved the weather and went up the scaffolding to look at the stonework restoration and they also went up the clock tower from the inside to look at the new auto winding mechanism. They both enjoyed seeing the improvements the work has made.
Cumbria Clocks, the clock restoration company have been amazed by the condition of the College clock. They commented on John and Gerry's workmanship and ingenuity, that had included using items such as a chair caster, to keep the clock working for all these years.
The stone work should be completed by February (weather dependant) and then the clock faces will be refitted, the scaffolding will come down and the clock will once again be a focal point for the whole community to all enjoy.