Register Now For Glow For Myton - Around The World In 5km
27 Jan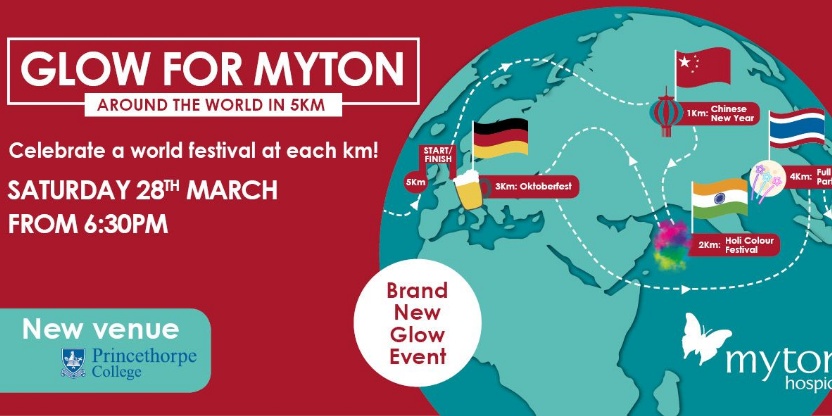 Join hundreds of fundraisers supporting this amazing local charity in what Myton Hospice is describing as its biggest and best Glow fundraiser ever. And if you sign up by Wednesday 5 February you will pay the early bird registration price of just £15 for adults and £10 for children to participate.
Princethorpe is hosting this major fundraising event for the charity Myton Hospice on Saturday 28 March 2020 and we are asking our wonderful Princethorpe Community to get involved. Glow For Myton - Around The World In 5km is a night walk that will wind its way through the beautiful grounds of the College campus, taking in the sights and sounds of some of the world's best celebrations along the way.

The walk will start and finish in the Orchard where there will be entertainment and food available. Following a Zumba warm up, the walkers will head off around the College grounds. There will be plenty of volunteer marshals to cheer them on and along the way will be exciting zones showcasing festivals and cultural celebrations from around the world including Oktoberfest, Chinese New Year, Full Moon Party and the Holi Colour Festival. The event isn't timed, instead it is all about enjoying the experience and the sights and sounds laid on for the event.

Comments Rebecca Richards, Myton's Assistant Events Manager, "We are hoping to raise £60,000 from this event and are really looking forward to holding it at Princethorpe."

The event is sure to be great fun for a good cause so we are really hoping lots of families and friends of the Foundation will get involved.

Glow For Myton - Around The World In 5km is open to all, and pupils, parents, staff, OPs, friends and neighbours are all encouraged to sign up for the event on the charity's website here.

Children of all ages are welcome but under 18s must be accompanied by an adult. After Wednesday 5 February the registration fee will increase to £20 for adults and £15 for children.