Princethorpe College Pupils Celebrate GCSE Results
20 Aug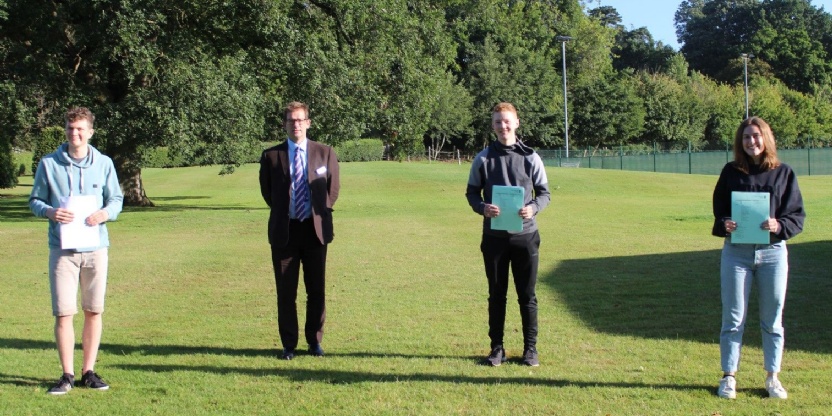 Princethorpe College pupils are today celebrating their long-awaited GCSE results.
From a cohort of 155 pupils over 60% of all entries were graded 9, 8 or 7 and 50 of its Year 11 pupils received nine or more 9, 8 or 7 grades.
There were many exceptional personal achievements, special congratulations go to Caitlin Mason, Ciaran Smith, Ben Shipton and Ben Scares who were awarded an outstanding eleven or more grade 9s each.
Overall 98% of the grades achieved were levels 9 - 4.
Whilst some pupils chose to receive their grades online, many came into school for the first time since the lockdown began to collect their results in person.
Ed Hester, Headmaster, commented, "After the uncertainty of recent weeks, we are delighted that these grades are based on the assessments of the teachers who know our pupils so well. We feel the results are well-deserved and reflect the hard work and commitment of this year group."
He continued, "I would like to congratulate all of our Year 11 pupils. They have shown resilience and focus during the many weeks of lockdown and made great strides in their learning with our on-line A-level and BTEC bridging courses which have prepared them well for their next steps. It has been an anxious time for many but we now look forward to welcoming the vast majority of them back into Sixth Form, alongside a good number of new entrants who are joining us from other local schools.
He concluded, "We are of course delighted with the high number of top grades, but we are proud of all our pupils who have worked hard and done their very best over the course of their GCSE studies. Whilst their results are important, this year group have also demonstrated many fine qualities worth celebrating, such as kindness, respect, determination and friendship. Lastly I would like to thank our dedicated teaching staff who worked with immense professionalism and rigorous attention to detail to support pupils and submit the grades on their behalf."
A small number of pupils did not receive their BTEC results due to exam board Pearson announcing that it would re-grade them in line with GCSE and A-level results.