Princethorpe Sixth Former Stan Brocklebank Awarded Prestigious Arkwright Scholarship
09 Oct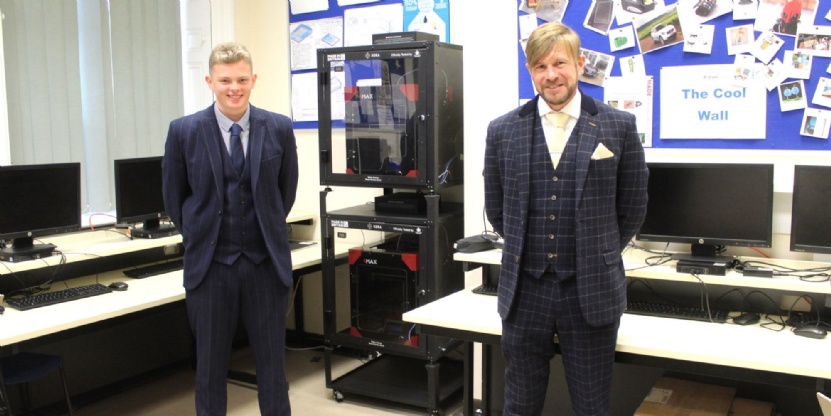 Princethorpe Lower Sixth Former, Stan Brocklebank has been awarded an Arkwright Engineering Scholarship. The accolade, which comes from The Smallpeice Trust, the UK's leading STEM Education Charity, is the most prestigious scholarship of its type in the UK.
The scholarships support high calibre students while they study for their A-levels, inspiring and encouraging them to pursue careers in the fields of engineering, computing and technical design.
The scholarships are awarded to students through a rigorous selection process, Head of Design and Technology, Paul Scopes, explains, "The Arkwright Scholarship is for talented Year 11 pupils who are interested in a career in Engineering. Pupils are nominated by their teachers, and submit an application focused on their engineering activities, interests and future plans. Applicants then take a two-hour examination where their problem-solving skills and engineering potential are put to the test and if successful they attend a rigorous interview at University. Pupils must be studying Design Technology and must plan to take Maths at A-level. Last year the College nominated five pupils, and Stan and, former Year 11 pupil, Carys Burchell were both successful and awarded scholarships. This was the first time the College had participated in the scheme and as these scholarships are really tough to get, we are very pleased to have two awarded in the first year."
Paul continues, "Stan is currently studying A-level DT, Maths and Physics. He has always stood out as a focused and talented engineer. He has been a member of the College's Robotics team, competing in Holland and Italy where he took a leading role as well as mentoring younger pupils. He was appointed DT Subject Leader in Year 10. His GCSE DT project was a new suspension set up for Autograss race cars and he completed it to an excellent standard. He has a bright future ahead of him in engineering and it really is a pleasure to teach him."
Those lucky enough to be awarded a scholarship, receive a financial award and the support of a mentor who works with them throughout their time in Sixth Form. They are also given the opportunity to take part in courses and events for Arkwright Scholars. They benefit from networking opportunities with like-minded students, gain confidence and knowledge in their subjects and often relevant work experience. They are ideally positioned to pursue Engineering, Computing or Technical Design at university or a higher-level apprenticeship before moving into industry to progress their career.
On receiving the news, Stan said, "These scholarships are one of a kind for people who are young and aspiring engineers, there is nothing to lose going for one of these awards and the rewards are incredible."
Stan plans to go on to study Automotive Engineering at university, and is hoping to then work in the Automotive industry, he would like to work for a World Rallycross team.
He continued, "The most challenging part of the application was the online part where you described yourself and your out of school interests in engineering. I had so much to talk about and I needed to be succinct. I felt really pleased and proud when I heard the news that I had received an award."
Head of Sixth Form, Ben Collie, comments, "Arkwright Scholarships are highly sought after as they provide exceptional support. Pupils who successfully obtain an award have access to unparalleled opportunities. Arkwright Engineering Scholars achieve excellent academic success and are known to make enviable career progress. Stan has done incredibly well to receive this accolade and we congratulate him on his success."