Princethorpe's Virtual Careers Fair Offers Insights Into A Wealth Of Opportunities
23 Mar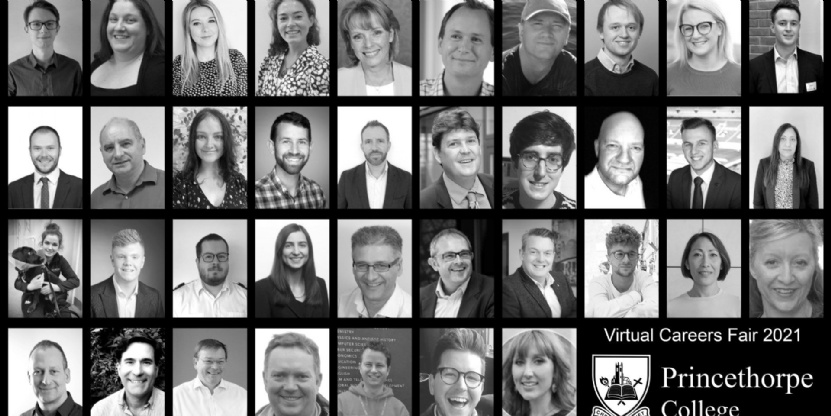 The College's fifth Careers Fair took place virtually this year but that didn't stop it offering a wealth of insightful information and advice about a whole host of careers. Headmaster, Ed Hester welcomed a capacity crowd of pupils, parents, staff and contributors, all online, on Saturday 20 March, for what proved to be an informative and very valuable event.
Thirty-seven speakers, including current and former parents and Old Princethorpians, gave their time to present on a wide variety of careers and professions. From Accountancy and Law to Veterinary, Engineering, Cyber-Security and Social Work, individual presentations gave pupil attendees from Year 10 to Sixth Form the chance to consider careers, research jobs, listen to advice and ask questions.
The morning began with a keynote speech from guest speaker and Princethorpe parent Dr Charlotte Cowie, Head of Medicine at the Football Association. Dr Cowie's address was full of words of wisdom. She began by sharing her route to her current role, the challenges and opportunities faced along the way and the breadth of responsibilities it includes. Before moving on to talk about the different career opportunities available in her industry. Her three myth busters were applicable to us all, encouraging but to the point they summarised the reality of the working world. Her advice that 'talent is not enough – it is discretionary effort that counts', 'you need to learn to love what you do' and 'you don't have to know what you want to do – just fake it until you make it' are applicable to anyone at any stage in their career in any industry. Dr Cowie spoke from the heart and was inspiring to all.
Thanking Dr Cowie, Ed Hester summed up with the hope that the Careers Fair would succeed in 'getting pupils on the right track' and with that the attendees were off for a fruitful morning of exploring careers and universities and life post Princethorpe.
Across the morning pupils attended three virtual sessions, for many this was their first step on the career ladder and it enabled pupils to have a taste of some of the different sorts of career choices available to them. Feedback has certainly been very positive with parents and pupils commenting on how useful and informative the event was including:
"Please pass our thanks on to all involved; really inspirational and helpful stimulus for the students."
"It was a great insight into future opportunities and ideas. Dr Cowie's initial talk was just amazing and so inspiring on so many levels."
"The speakers made it very interesting and gave a lot of information. It was so helpful. Also we would like to thank Dr Cowie she was so inspirational."
"Following the Careers Fair on Saturday, I now know exactly what I want to do!"
We are immensely grateful to all the Old Princethorpians, parents, contributors and staff who supported the Careers Fair and to the Careers Team for their organisation of the event.