Introducing Our Telethon Call Team
31 Mar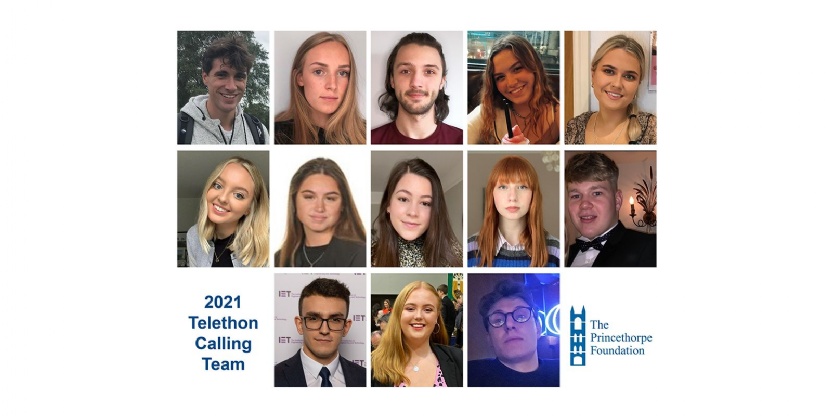 During April the Foundation is reaching out to our alumni, former parents, friends and supporters to build and develop stronger relationships with our ever-growing community of Old Princethorpians. We want to share news of Princethorpe and our plans and seek feedback on our work in the past and ideas for the future, and, after what has been a challenging year for us all, we also want to find out how the Princethorpe community have been getting on.
We have put together a team of recent Princethorpe College leavers who are really looking forward to talking to the Old Princethorpian alumni. These young people are mostly all still studying at university or in the early stages of their careers and they have all stepped forward to take part in our first ever telethon. Now following career paths that range from the Performing Arts through to Architecture and the Sciences, it is wonderful to see the confident and well-rounded young people they have all become. We are delighted to introduce them to you here.
From the Class of 2015 we have actor, Ed Statham, who trained at the Birmingham School of Acting and artist, Matt Farr, a graduate of the Glasgow School of Art.
From the 2018 cohort we have Ben Haden who is studying Biological Sciences, Ella Freiss whose is currently a Graphic Design student, Michael Gucluer who went on to study Electrical Engineering and Faye Lewis who is a student of Architecture, all still at university.
Then from the 2019 cohort there is Sam Richards and Millie Higgins who are both studying Business and Management, Esme Down, a medical student, Charlotte Silvester, currently studying Anatomy and Human Biology, and Jasmine Rigg, a Biomedical student.
They are joined by 2020 leaver Gabriella Proietti Tocca who has just started her Biological Science degree and Lauren Pountney-Barnes who is a trained dancer currently studying at Trinity Laban.
The Foundation and our calling team are greatly looking forward to engaging with the wider Princethorpe community strengthening our connections and relationships.