College Prize Giving Celebrates Pupils' Exceptional Achievements
02 Dec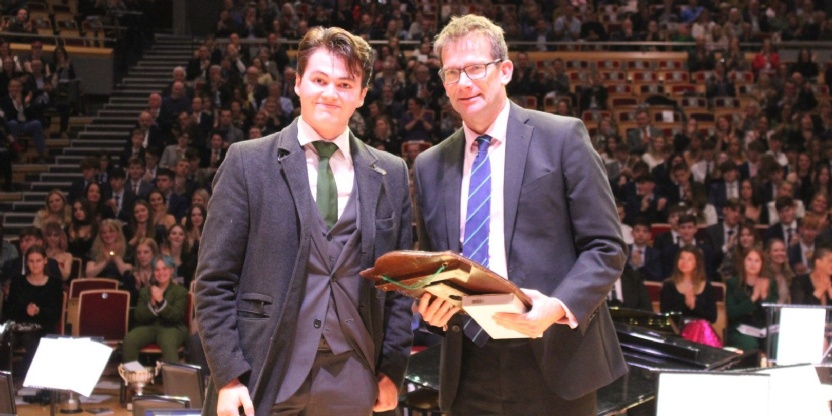 Another exceptional year of achievement, progress, creativity and contribution was celebrated at Princethorpe College's annual Prize Giving Ceremony at the Butterworth Hall, at Warwick University's Arts Centre on Friday 18 November.
Before the ceremony, the Old Princethorpians Committee hosted a special Drinks Reception for the returning Class of 2022 and their parents, providing a welcome opportunity for last year's cohort to get together and catch up.
Chair of Trustees, Mrs Liz Griffin, opened the proceedings, warmly welcoming parents, friends of the College and Princethorpians old and new to the occasion and then Father Alan Whelan MSC then led the assembled community in an opening prayer.
In his formal address, the Headmaster, Ed Hester, gave thanks to all those who make Princethorpe the special place it is. His warm words paid tribute to all that is done by so many in support of the College, the kindness, the compassion and the values that underpin the success stories of so many of our pupils and not just those who received prizes on the evening. He reminded us of St. John Henry Newman's words 'To live is to change', and reflected on the changes we all experience, before congratulating last year's Year 11 and Upper Sixth on their resilience and tenacity over the course of the last three challenging years.
All evening the atmosphere was joyful and celebratory and there were superb musical interludes from the school String Orchestra, Concert Band and the Year 7 Choir, whose performance of Rainbow Connection was both enthusiastic and uplifting.
Then it was time for the presentation of the awards. Listening to the citations was truly inspiring and humbling. The talent in evidence, the grit and determination, the passion, enthusiasm and commitment were all applauded and honoured.
Finally, we came to the main award, the Princethorpe Shield, the oldest and most prestigious College award presented annually to the student who is seen to embody the spirit and ethos of the College in many facets of their school life. It was a very popular decision this year, with the audience cheering a delighted and surprised Greg Burford who was thrilled to receive the Shield.
Headmaster designate, Grove du Toit, then spoke echoing Mr Hester's congratulations, before the current Heads of School, Freya Mills, and Head Boy, Pratheesh Prabakaran, gave an eloquent vote of thanks.
The evening came to a close with the singing of the College Hymn, Here I Am Lord.
The full list of Prize Winners can be found in the Prize Giving Programme here.
Emails with links to the photo galleries will be sent to the Class of 2022, GCSE certificate recipients and the Prize Winners.