Grove du Toit Takes On Headship Of Princethorpe College
04 Jan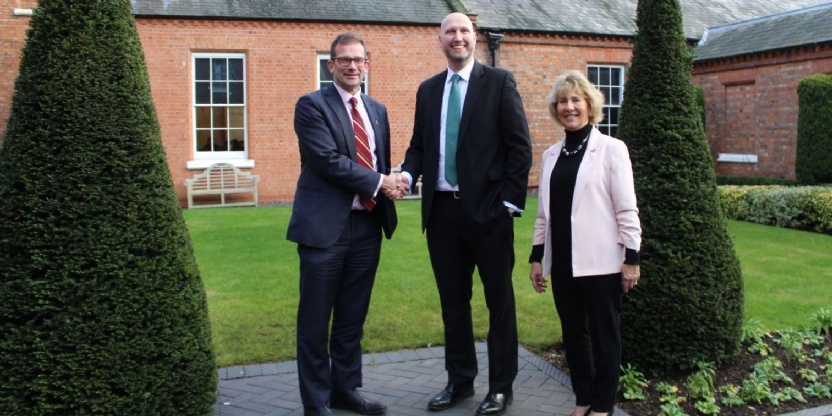 Grove du Toit has taken on the Headship of Princethorpe College with effect from January 2023. He succeeds outgoing Headmaster, Ed Hester, who has held the post since 2009. Mr Hester now becomes Foundation Principal, a dedicated role with responsibility for the strategic vision and direction of the whole Princethorpe Foundation, its three schools and nursery.
Mr du Toit was appointed as Headmaster back in May 2022 after a rigorous selection process and until December was Deputy Warden (Senior Deputy Head) at Forest School, a co-educational independent day school for children aged 4 to 18, located on the edge of Epping Forest, a position he held for five years.
Married to Marike, with whom he shares two daughters, aged 14 and 11, Mr du Toit, 43, is a practising Christian. South African by birth, he moved to the UK in 2005 and after a brief period teaching in the maintained sector, he has held a variety of leadership roles in HMC independent schools in and around London. Following his under-graduate studies at the University of Pretoria, he completed a MA in Education Management at King's College London, and has recently completed his MBA at Salford University through their Business School.
Comments, Liz Griffin, Chair of Trustees, "We are delighted to finally welcome Grove on board. The Foundation Trustees were unanimous in the decision to appoint him as the next Headmaster of Princethorpe College. His passion for education and young people shone through throughout the selection process and our many encounters with him since. He has immense vision and energy combined with a wealth of experience and leaderships skills, but most importantly his personal values marry perfectly with the ethos of the College.
She continues, "Our thanks go to Ed Hester, who has done an outstanding job as Headmaster of Princethorpe College over the last 13 years. Of course, Ed will continue to have a very keen interest in life at Princethorpe and will be on hand to ensure a smooth transition and successful handover to Grove, who will be supported by Princethorpe's excellent Senior Leadership Team."
Comments, Grove du Toit, "I am excited and honoured to take on the Headship of Princethorpe College and lead the school into the next stage of its development, building on the excellent work of Ed Hester. I recognise and fully appreciate what a special community Princethorpe is and upholding its ethos and spirit of family will be central to my role. I look forward to immersing myself in school life and building relationships with staff, parents and pupils alike."
Outgoing Headmaster, Ed Hester, adds, "Grove is a great fit for Princethorpe and brings with him a vast amount of experience and skills. I am delighted to be able to hand over the reins of running the College to him and am really excited at the prospect of working with him over the years ahead."
The Princethorpe Foundation educates some 1,400 pupils aged 2 to 18 years across its senior school, Princethorpe College, and prep schools, Crackley Hall School and Little Crackers Nursery in Kenilworth and Crescent School in Bilton, Rugby.