New Headmaster Impressed With Progress Of Science Centre
28 Feb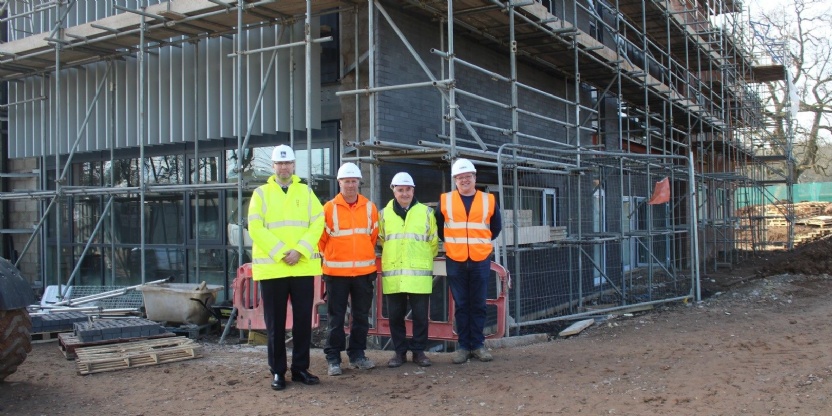 As the construction of Princethorpe's Science Centre approaches its one-year milestone, new Headmaster, Grove du Toit, visited the site for the first time to check on progress.
Mr du Toit was taken on a tour of the new building by Foundation Assistant Head and Project Manager, Alex Darkes, Trendgrey MD, Nick Henderson, and Trendgrey Site Agent, Kevin Wynne.
They explored the new laboratories, preparation areas, breakout and study spaces across both floors, they saw the main entrance that fronts on to The Lime Walk and the breakthrough points to The Limes building, they also walked up the far side of the building to the site of the new tennis courts. Mr du Toit commented on the space and size of the laboratories and learning areas and their stunning views. He was particularly impressed to see how all the construction work was going on with minimal disruption to the day-to-day life of the school.
Mr du Toit said, "I thoroughly enjoyed my visit to the construction site today. Our brand new Science Centre is going to be amazing, offering cutting-edge teaching and learning facilities for Princethorpe's pupils. It will transform the whole campus and put Science study at the heart of our school, and I know it will inspire generations of Princethorpe scientists to come."
The Science Centre is on schedule to open its doors for teaching in September 2023, it will have 1,800sq m of floor space and 10 laboratories spread over two floors. As work internally moves apace, soon the site office will be relocated and the last remaining portacabin will be removed to allow landscaping in front of the Centre to begin.