Princethorpe's New State-Of-The-Art Science Centre Officially Opened By Yewande Akinola MBE ​​​​​​​
25 Sep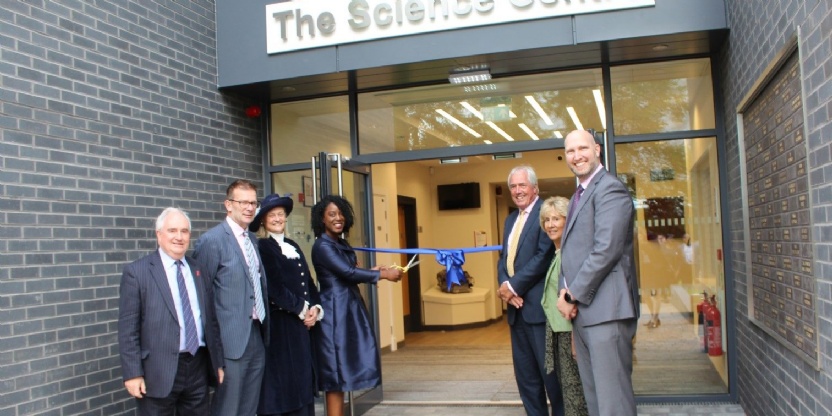 On Friday 22 September

Princethorpe

welcomed

award

-

winning engineer and innovator, Yewande Akinola MBE

, to officially open its

brand new

state-of-the-art

Science Centre

.
Boasting 1,800sqm of floor space with ten state-of-the-art laboratories, dedicated prep rooms, break out, study spaces and staff bases, Princethorpe's new Science Centre will provide outstanding teaching and learning facilities and bring Science to life for pupils of all ages.
In a welcome to a gathered audience of over a thousand pupils, staff, invited guests and trustees, Foundation Principal, Ed Hester, thanked all who had helped to deliver the magnificent building, Tony Pugh and his team at AT Architects, project manager Steve Joyce from Ainsleys and Nick Henderson and his team at Trendgrey Construction. He went on to thank the College's many friends and supporters, including donors, who had all helped the building become a reality. He expressed special thanks to Foundation Assistant Head, Alex Darkes who had worked so hard and done more than anyone to bring the amazing building to fruition.
In her keynote speech, Yewande praised the design of the intelligent new building, that includes an integrated digital building management system, she spoke of her journey to becoming an engineer and her work innovating, designing and problem solving for buildings. She shared her passion for Science and spoke about its role in bringing positive improvement to people's lives. She encouraged Princethorpe's pupils to embrace opportunities, ask questions, be innovative and express their creativity, urging them to be curious and see where Science could lead them.
Her delightful, easy and enthusiastic manner, warmth and interest in young people and education and her sheer passion for science and engineering were an inspiration for all at the event.
Yewande was joined by invited guests including Tim Cox, Lord Lieutenant of Warwickshire, and Sophie Hilleary, High Sheriff of Warwickshire for a formal ribbon cutting and official unveiling of the Science Centre plaque.